Community, Memory and Peace in the Dudley Greenhouse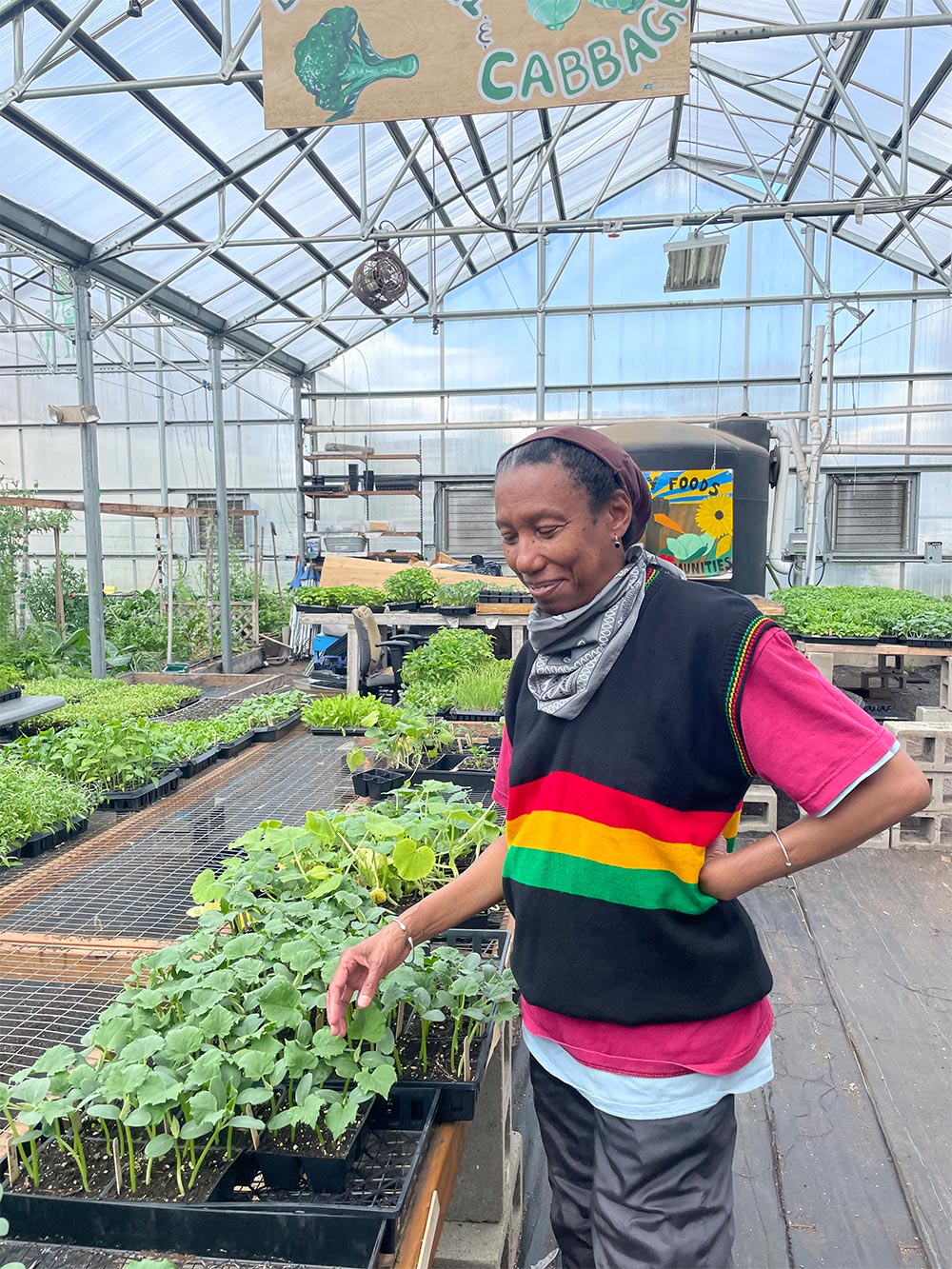 Talibah in the greenhouse.
From juicy cherry tomatoes and jalapeño peppers to sprigs of basil and parsley, The Food Project's Dudley Greenhouse has helped to reshape the local food landscape of the Dorchester and Roxbury neighborhoods. But the greenhouse's community volunteers value more than the local source of veggies — the building is also an opportunity to connect with the power and resiliency of nature and the Dudley community.
Originally built by Dudley Neighbors Incorporated and later leased to The Food Project, The Dudley Greenhouse exists to provide a community learning and meeting space, meant to fulfill the needs of the neighborhood and strengthen its food system. The Food Project works in partnership with Dudley residents and the Dudley Street Neighborhood Initiative, whose perspective, passion, and work are the heart of the space. 
Talibah Kennedy and Peaches Jackson are two Dudley residents whose support of the greenhouse has been instrumental in the transition back to in-person use of the space. While their reasons for getting involved differ, their feelings were mutual: as soon as they spent time there, they were hooked. 
Peaches was born in Roxbury, though she was mostly raised in Harlem. A little over 20 years ago, she made the decision to return to the Boston area to help support her grandmother who was living in Dorchester. In 2021, she went to the greenhouse for a community event, and was enthralled by the sense of peace she found spending time there. She reached out to Danielle Andrews, who manages the greenhouse for The Food Project, about volunteering, and has been a regular ever since.
"I'm a thinker," Peaches explained, "and the quietness of the greenhouse is meditative. I love that every part of gardening is quiet, from digging in the dirt to planting seeds, to picking things."  
It wasn't just personal contemplation that she loved. Last May, when her brother passed, she found that coming to the greenhouse not only kept her mind busy while grieving, but that growing things helped honor his memory: "I wanted to do something productive for him." 
Born in Trinidad, Talibah and her family moved to Boston when she was ten, and she's been in the area ever since. She had known about the greenhouse for a long time, but never stopped in until a friend convinced her to. Like Peaches, she was completely taken by the respite that the greenhouse gave her from city life, and immediately wanted to know how she could become more involved. 
Talibah is Rasta, and practices veganism. Volunteering at the greenhouse allowed her to maintain a plant-based diet, while also supporting her community. 
"Last year during the growing season, I didn't visit a single supermarket," says Talibah. "So this space is really my dream. The food just tastes better coming from here. Different and better."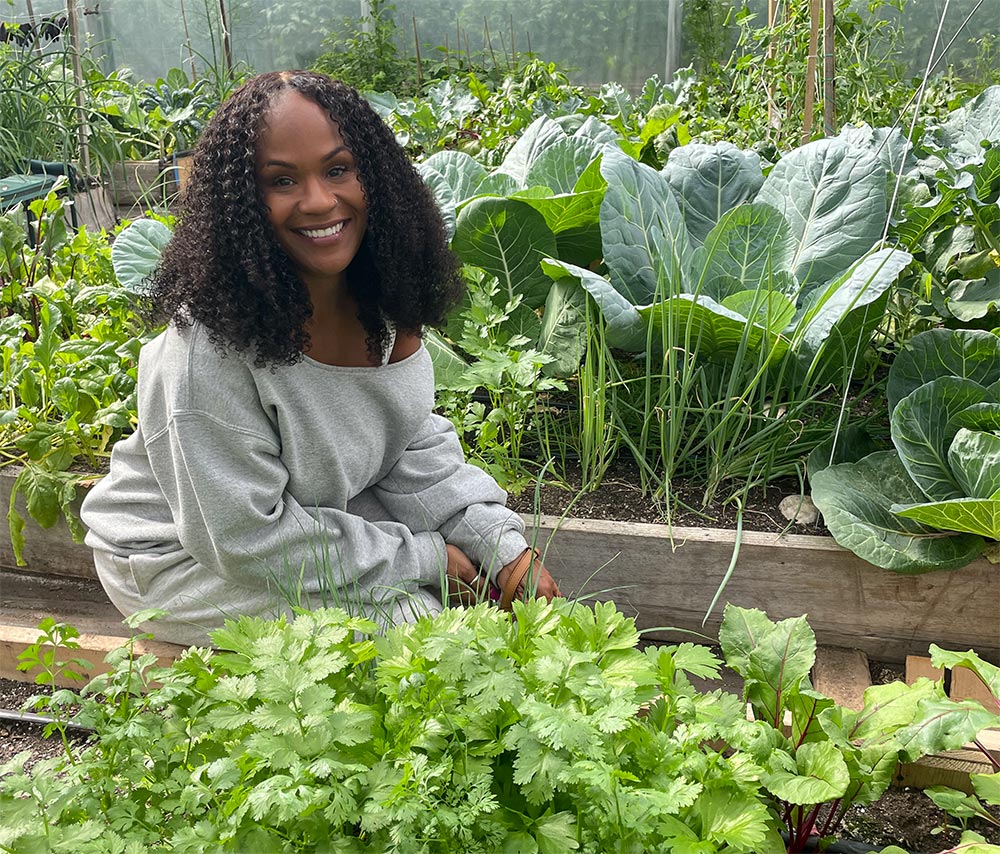 Though they had different initial motivations, Peaches and Talibah discovered a lot of similarities between them while spending time together in the greenhouse. 
"My parents and grandparents are from North Carolina and South Carolina, and they were surrounded by farming all their lives," Peaches said. "My grandmother kept gardening in her backyard in Dorchester, so when I was very little I saw her doing that as well. There's just something about the soil I love that's deep within me. I could come into the greenhouse with a fresh pedicure and still want to get my hands dirty." 
Talibah shared a similar sentiment. "Two generations before me, my people were farmers. I know I must have sat at my great grandmother's feet and learned something from her," Talibah said. "At that time, folks had to bring their kids to work with them, so all those young children just got to run around in the soil. You remember the things that you learn at that age." 
Alongside their personal connections to the space, Peaches and Talibah both find a lot of meaning in the ways that the Dudley Greenhouse impacts their community. 
"Having a space like this brings unity to the community." Peaches explained. "The other day I saw old family friends I hadn't seen years at [City Farm Fest]. That would not have happened without the greenhouse." 
Talibah doesn't currently have her own plot in the greenhouse, so the fact that the produce is grown and tended to by the community makes it all the more special. 
"Everything I put into my own garden comes from this space, because of the help of others. So I have a connection to the plants and to the people here," Talibah said.
Perhaps what united Peaches and Talibah the most were their shared desire to pass down the wisdom they've gained to future generations within their community.
"I have gotten to spend more time with my son and share with him the joy of gardening." said Peaches, whose teenager will sometimes accompany her in the greenhouse. Talibah, who teaches environmental science to children, also feels that the wisdom she has learned from both her family and her community is necessary to be passed on to younger people. 
"I want to plant the seed that my parents planted in me, and watch it grow."