Grow Food. Grow Leaders. Grow Change.
What brings you joy in this moment? On our farms, it has been seeing the youth return after a season of remote work, pulling up the first sweet potatoes, and collaborating with incredible community partners during these troubling times.
Please join us today as we stand at a moment in history where the need to invest in youth, food, and community is so great. Your gift today grows food, leaders, and much needed change.
"I am hopeful because I know that the work we do at The Food Project is so much greater than each of us and will continue to make change for years to come. It encourages me to see that young people are willing to work amidst these hectic times, learn about food justice, and wrestle with new ideas to change our communities for the better!" 
—Myha, 16, Boston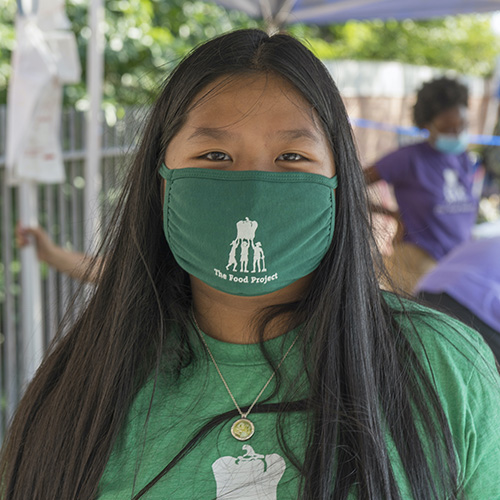 Food access will still be a huge issue next year in all of our communities. This pandemic has highlighted where our food systems are failing, and we are all anxious to respond. Next spring, our young people will arrive on the farms determined to make change. Your gift today helps us invest in a new generation of leaders who are committed to their community.
Together we are growing food, growing leaders, and growing change.
About The Food Project
We envision a world where youth are active leaders, diverse communities feel connected to the land and each other, and everyone has access to fresh, local, healthy, affordable food.
By making a donation today, you ensure this critical work continues in 2021, and for many years to come.
Since 1991, The Food Project has:
Engaged over 1,800 youth in our three-tiered youth development program.
Cultivated 5,000,000 pounds of produce on 70 acres of urban and suburban land.
Built more than 1,400 raised-bed gardens in backyards and community spaces.
Hosted 444 people from over 44 states and 4 countries at our biannual Institutes.
Welcomed more than 44,500 Serve & Grow volunteers on our farms.
Worked with 28 community partners and hunger relief organizations to provide farm fresh emergency food.
Your gift today keeps this work going and empowers tomorrow's leaders.